For its 7th edition, the European professional drone show announces two major novelties
On October 10 and 11, 2023, UAV SHOW will take over the Palais des Congrès in Bordeaux.
With 3,000 m² of exhibition space, the show will welcome around 100 national and international exhibitors and more than 2,500 professional visitors. The event will close with a day of outdoor demonstrations, which will take place at Bordeaux-Mérignac airport. This is the first time that the site of an airport will be used by drones.
The UAV SHOW, a meeting in two stages
October 10 and 11, 2023: sourcing, competitive intelligence and exchanges with professionals in the drone sector
@artiste-associe
The meetings between professionals will take place at the Bordeaux Congress Centre where an aviary will be installed and will allow short UAV flights demonstrations.
Different sectors using the drone will be represented:
Inspection of linear networks (Energy, transport...)

Agriculture, viticulture, resources protection

Construction, Real Estate, Topography

Safety, Security

Media, Communication
New ! Demonstration day at Bordeaux-Mérignac airport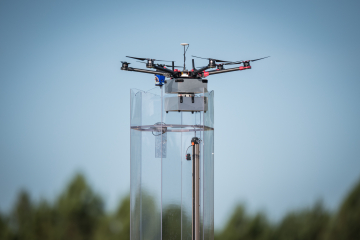 @artiste-associe
On October 12, 2023, let's meet on the Bordeaux-Mérignac airport site to discover a program rich in demonstrations. A real opportunity for companies to show their latest innovations and technological prowess in real conditions.
Share your experience on the show 
Further than a simple discovery of products and to give you the opportunity to test your purchasing projects in real life, the show offers two visit formats on two different locations and dates.
As with every edition, the UAV SHOW will make a point of informing visitors by sharing experiences and knowledges with key players through round tables, workshops and conferences. In 2021, the focus was on purely economic topics for companies in the drone industry, discusssed during round tables such as "What viable business model?" "How to export as an SME in the sector? Africa, a land of opportunities". Other topics related to the fields of application of drones were raised during conferences and seminars (air mobility of the future, use of drones for the benefit of the population and territories or for response services, opportunities for the deployment of European drone regulations etc.).