A 10th anniversary in style
For its 10th anniversary, the UAV Show is going big! On October 19, 20 and 21, the leading professional drone show will take over the Palais 2 l'Atlantique at the Parc des Expositions in Bordeaux. With 3000 m² of exhibition space, the show will welcome a hundred exhibitors from 10 countries and more than 2500 professional visitors. It will be the place of meetings between European decision-makers and major actors of the drone world to promote exchanges and business opportunities at the European and African level.
The UAV Show, a 2-step meeting
You are thinking about the use of drones for your activity, in France or abroad? Are you looking for service providers or partners? Block your diaries, the UAV SHOW is made for you!
To go further than just discovering products and to give you the opportunity to test your purchasing projects in real-life situations, the show offers two visits on two different locations and dates.  
On October 19 and 20, 2021, source, spot, and exchange with professionals in your sector
@artiste-associe
 
On October 19 and 20, 2021, the meetings between professionals will take place at the Parc des Expositions de Bordeaux (Palais 2 l'Atlantique) where, new this year, an indoor aviary will be installed and will allow short presentations.
For the first time, the show will take place in the Palais 2 l'Atlantique of the Bordeaux Exhibition Center and its 3000 m2 of exhibition space.
The expansion of the show allows us to welcome nearly 100 exhibitors from 10 countries (20% more than in 2018) and more than 2500 professional visitors. Whether aerial, autonomous maritime or terrestrial, UAVs will be honored at the UAV SHOW through a hundred exhibitors from 10 countries - Key accounts and principals, operators, manufacturers, laboratories, R&D centers and design offices, start-ups, test centers, local authorities, institutions, universities, schools and training centers, services (insurance, innovation support, fi¬nancing, legal) and media will present their know-how and innovations around the drone.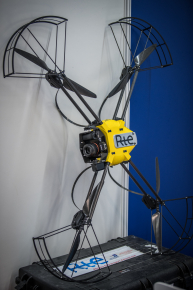 @artiste-associe
Different sectors using the drone will be represented:
· Inspection of linear networks (Energy, transport...)
· Agriculture, viticulture, resource protection
· Construction, real estate, topography
· Safety, Security
· Media, Communication
As in every edition, the UAV Show makes it a point of honor to inform visitors by sharing experience and knowledge with key players through round tables, workshops and conferences. For 2021, the focus will be on purely economic topics for UAV companies, which will be addressed in round tables ("What viable business model?" "How to export as an SME in the sector? Africa, land of opportunity?) Other topics related to the fields of application of drones will be addressed during conferences and seminars (aerial mobility of the future, use of drones for the benefit of the population and territories or for emergency interventions, opportunities for the deployment of European regulations on drones, etc.).
14 workshops will be led by exhibiting entities to highlight their innovations, services and drone use cases: Thales, Aerospace Valley, Normandy Aerospace, Telespazio, Onera, Altametris, Safe Cluster, Innov'ATM, H-Drones, Customs, Fédération Professionnelle du Drone Civil, EDF, Air Force 
October 21, 2021 at the Sainte-Hélène Cesa Drones Test Zone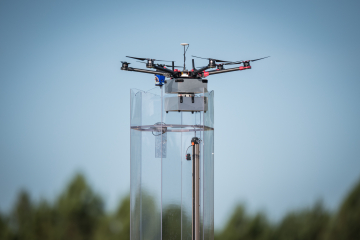 @artiste-associe
On October 21, 2021, join us at the Sainte-Hélène Cesa Drones Test Zone for a program rich in demonstrations. A real opportunity for companies to be able to show their latest innovations and technological prowess in real conditions.