Why participate in UAVSHOW?
It is an opportunity to create an international network in the professional drone sector, a highly targeted field of activity.
It is also an opportunity to showcase your technological innovations, to differentiate yourself and to stand out. To be able to present your drone in flight, outdoors in real flight conditions, is exceptional. To benefit from an indoor aviary, if the weather does not allow to work outside, it is a real plus in the organization of our beautiful show.
What do you recommend to future UAV SHOW exhibitors?
I would advise them to make themselves visible: work on their messages, know how to present their products in a few words.
We are fortunate to bring together professionals from the industry only, which is a strength, we all speak the same language.
It is also very important to participate in some round tables. Here, the best experts speak on very technical subjects, nothing better to keep up to date on the industry's news.
Finally, I advise exhibitors to attend the gala evening. It's an opportunity to meet many partners and the show organized by Dronisos is really worth seeing, but I won't say more, you'll have to come to discover it!
Parle-nous de ton parcours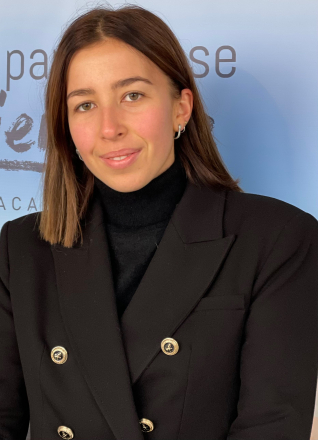 Business is a field I discovered during my first jobs as a seasonal saleswoman in a souvenir store, or during my first internship in a men's ready-to-wear store.
I then discovered communication and the event industry through various internships. A first internship of 2 months with the communication team of a pharmaceutical company, Seqens. Then an internship of 6 months at the Conseil des Vins de Saint-Emilion in the fields of communication and events.
In March 2023, I started my one and a half year internship at Bordeaux Technowest as a project manager for the UAV Show and as a receptionist for the La source site in Bordeaux center.
I am very proud to participate in the UAV Show, it is an event with an international scope that allows you to create an interesting network of contacts.